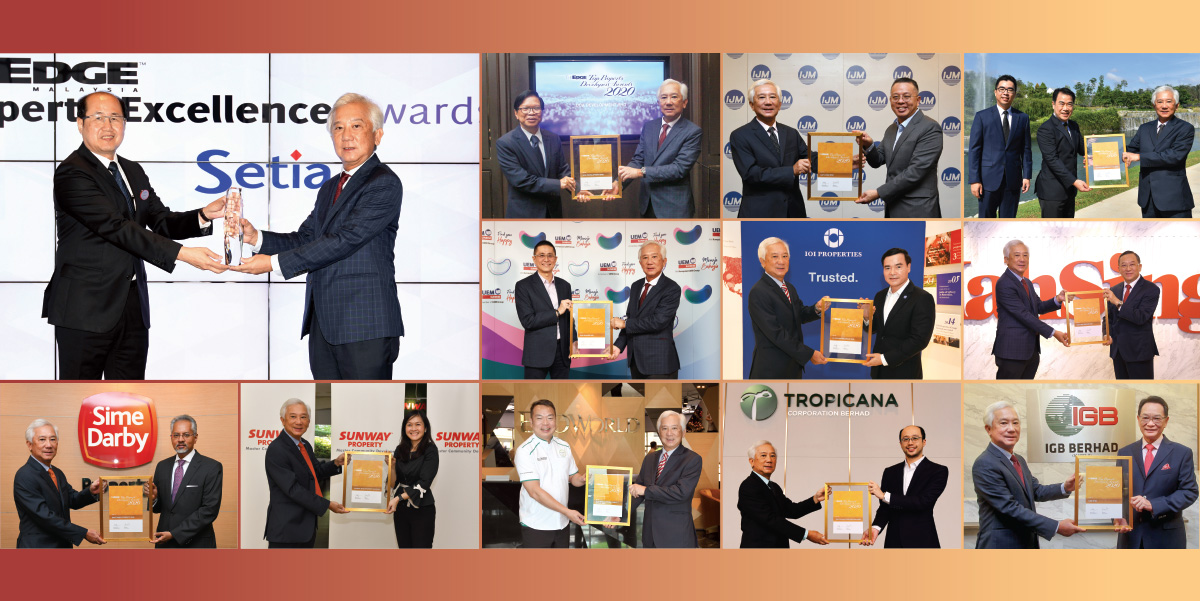 The Covid-19 pandemic has thrown a curveball like no other at us, bringing life and business as we know it to a halt. Lacklustre economic conditions, coupled with the lockdowns enforced across the world due to the pandemic, have resulted in unprecedented challenges for most businesses.
Revenues have been affected, and the snowball effect has impacted the job market. Businesses have undertaken various measures — including cost-cutting, fundraising, business diversification, and mergers and acquisitions — to survive this pandemic.
Yet, in these volatile times, some companies continue to perform well. There may not have been a physical event, but the annual The Edge Malaysia Property Excellence Awards (TEPEA) 2020 to recognise the industry's best performers carried on.
S P Setia Bhd clinched the top spot in The Edge Malaysia Top Property Developers Awards (TPDA) 2020, marking the fifth consecutive year it has come out on top. It had dropped to third place in 2014, and fourth in 2015, before regaining the title in 2016.
S P Setia president and CEO Datuk Khor Chap Jen says the developer is elated that it has been awarded top honours for the 13th time.
"This would be impossible if not for the strong teamwork we have at Setia. It hasn't been easy as we have been facing strong headwinds with the soft market and, in addition to that, the unprecedented pandemic brought about by Covid-19. No industry has been spared, but our team spirit persevered, and we rose up to overcome the odds by continuing to deliver our best. I would like to dedicate this win to Team Setia," he adds.
The developer also bagged two other awards, namely The Edge Malaysia Affordable Urban Housing Excellence Award for Seri Pinang Apartments in Setia Alam and The Edge Malaysia Outstanding Overseas Project Award for Parque in Melbourne.
Apart from that, S P Setia was a joint winner of the Best in Qualitative Attributes sub-award, together with Sunway Bhd's property division.
The others in the TPDA Top 10 are Sime Darby Property Bhd (No 2), Sunway's property division (No 3), UOA Development Bhd (No 4), IJM Land Bhd (No 5), Gamuda Bhd's property division (No 5), UEM Sunrise Bhd (No 6), IOI Properties Group Bhd (No 6), Mah Sing Group Bhd (No 7), Eco World Development Group Bhd (EcoWorld) (No 8), Tropicana Corp Bhd (No 9) and IGB Bhd (No 10).
IJM Land and Gamuda's property division shared the No 5 spot, while UEM Sunrise and IOI Properties were joint No 6. UOA Development won the Best in Quantitative Attributes sub-award.
The TPDA is evaluated based on both qualitative and quantitative attributes. For the qualitative attributes, the judges consider each company's expertise, image, innovation and creativity, product quality, and the value they create for buyers.
As for the quantitative attributes, the companies are evaluated based on their shareholders' funds, turnover, profitability and cash or gearing. The scores and rankings for the TPDA are audited by Deloitte Malaysia.
The TPDA anchors TEPEA, which in recent years has expanded to include other sub-awards such as The Edge Malaysia-PEPS Value Creation Excellence Award, The Edge Malaysia-PAM Green Excellence Award, The Edge Malaysia Affordable Urban Housing Excellence Award, The Edge Malaysia Outstanding Property CEO Award, and The Edge Malaysia Outstanding Overseas Project Award.
The Edge Media Group publisher and group CEO Datuk Ho Kay Tat noted that the TEPEA awards serve not just to recognise the best in property development but also to guide buyers who are looking for properties to buy. The idea is to help them make better decisions, especially during this period.
"Nations across the globe are facing an unprecedented pandemic and Malaysia is not excluded, with businesses being badly affected. Nevertheless, we believe not only will strong players survive this challenging time, they will come out even stronger by adapting to market needs," he said.
"These awards provide a guide to the public on the strongest and best real estate players in the country. TEPEA has become an industry benchmark for companies which have sustainable financial strength and delivered quality products to their customers to be used as a home or as an investment asset."
In partnership with the Malaysian Institute of Architects, The Edge Malaysia-PAM Green Excellence Award recognises projects that demonstrate sustainable design innovation while contributing positively to the community. The winner is KLoé Hotel in Kuala Lumpur. Meanwhile, Sia Boey Urban Archaeological Park Phase 1 in Penang received an honorary mention.
The Edge Malaysia Affordable Urban Housing Excellence Award, which honours affordable housing projects for the urban middle-income group undertaken wholly by Malaysian private developers, was awarded to Karisma Eco Majestic by EcoWorld and Sri Pinang Apartments by S P Setia. Both projects are in the Klang Valley.
The Edge Malaysia Outstanding Overseas Project Award sees joint winners this year: London City Island by Eco World International Bhd and Parque in Melbourne by S P Setia.
The Edge Malaysia Property Excellence Awards is presented by City & Country, the property pullout of The Edge Malaysia weekly, and supported by EdgeProp.my.